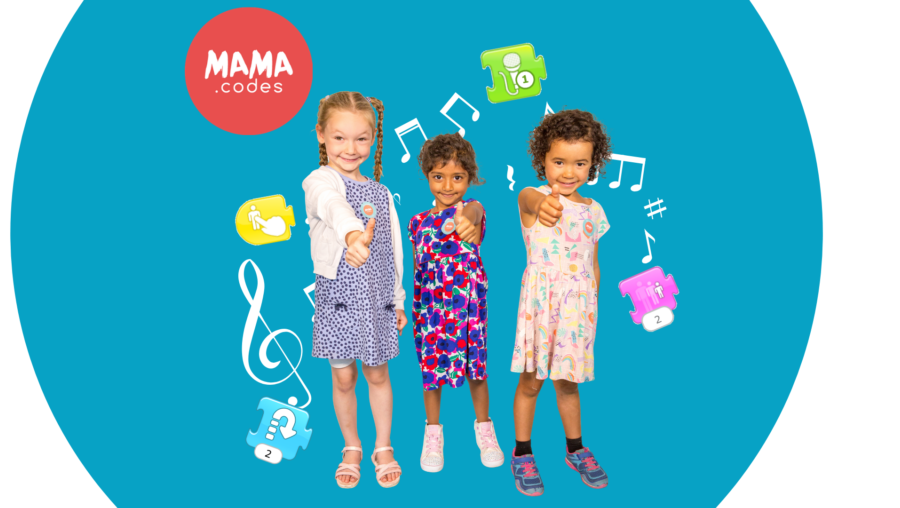 Sing & Code Challenge Awards
Congratulations! If you are on this page you have been nominated by your tutor to take part in our Sing & Code Bronze Challenge Awards this term.

Please read on for more info and details on how to book.
Sing & Code Challenge Awards - Bronze
Sing & Code Challenge Awards - Silver
What are the challenge awards?

The challenge awards are held each term so that children can consolidate their learning and demonstrate the progress that they have made through the MAMA.codes curriculum.
Your child will be in an online class setting completing activities that are designed to test the MAMA.codes Bronze level skills criteria.
They will be having too much fun to notice that it's a challenge award, but one of our teaching team will observe the children as they complete activities and are awarded with a pass, merit or distinction.
This award demonstrates all the coding, problem-solving and logical thinking skills your child has learnt over the last term and a rewarding way for you to commemorate their progress. Most importantly, it recognises your child's progression through the curriculum.
Certificates can be shared with schools to demonstrate Early Years/​KS1 learning goals and help give your child a head start during their first few years at school.
When will these take place?

The challenge awards usually take place in a separate session to normal classes and will last about 30mins.
Your child will still be in a group of up to 5 children and to them it will just feel like their usual weekly class. However, the children will be leading the class more and we'll be bringing back some of their favourite activities from over the course of the term so that they can demonstrate the skills and knowledge they have picked up.
How do I book?

Please select from the times available below to book. Spaces are limited and offered on a first come, first served basis.
We have tried to offer times that coincide with your usual class times as much as possible so that children feel comfortable and there is some familiarity and routine when they turn up to the challenge awards. You may choose another time if you wish.