3-5 Year Olds - Jump & Code
View our upcoming ​'Online Jump & Code' sessions and book below. For those aged 3–5, no tablet required!

Join our fun-filled sessions where your child will learn the basics of coding, problem-solving & logical thinking through song and movement.
For more information, scroll down to see our FAQ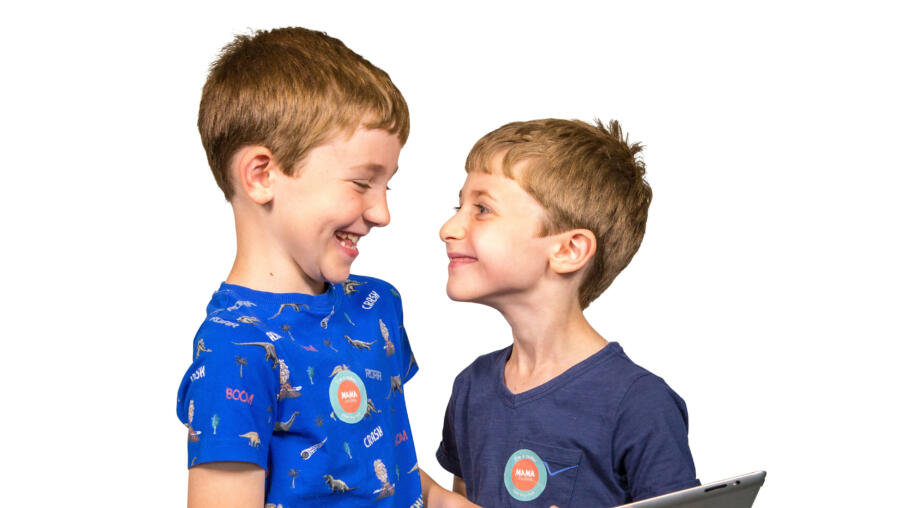 Can't find a time that's convenient?
Get in touch and we'll book you in for a session at a time that suits you.

FAQS
What is coding?
Coding is writing in a programming language that a computer can understand. This will tell the computer to behave in a certain way, to do a certain thing, and to ultimately perform the actions that you want it to.

Essentially, your child would be learning a new language when they learn to code. With technology advancing every year, it is an important skillset for every child to have regardless of what they may go on to do in the future as every sector is becoming more and more reliant on technology.

Why choose
MAMA

.codes for your child's coding journey?

At MAMA.codes, we pride ourselves in taking a child-centred approach to teaching and learning which means your child is always at the heart of what we do.

We bring topics from the UK National Curriculum to life through our project-based learning approach and well-thought-out curriculum to ensure your child is not only being challenged but also having fun.

This ensures that your child can meet their learning goals and they progress effectively in their coding and IT skills.

Every lesson has a particular learning objective and outcome. Your child will leave every session with a sense of accomplishment and achievement.

They will build skills of perseverance and willingness to make mistakes, test, debug and problem solve effectively.
Is
MAMA

.codes only about coding?


No—we don't just focus on coding. We are committed to helping children establish a healthy relationship with technology while using it positively.

We show children how to end screen time sessions mindfully and come off technology feeling calm and balanced rather than tired and irritable.

Our approach to overcoming screen fatigue is unique and highly praised by both parents and children.

All areas of the UK National Curriculum are covered in our sessions including numeracy, literacy, history, geography, art, languages, music and important PSHE topics such as staying safe online, being eco-friendly as well as diversity and inclusivity.

What Does A Typical
MAMA

.codes Session Look Like?

Each session starts with a chance for students and tutors to catch-up on the week. We believe building rapport and relationships online is just as important as the skill of coding.

Next, the learning objectives are introduced both from the coding perspective as well as the topic for the lesson. Our sessions are cross-curricular which means we will support your child to consolidate their learning from all areas of the UK National Curriculum.

Once the coding session starts, students are engaged in making their projects their own.

By this point (usually halfway), we ensure students have a brain break to ensure we keep their focus and energy up in the session whilst minimising screen fatigue. Students love to guess what the brain break will be in each session!

Then the coding continues as students apply the knowledge they have retained from the first half of the session.

The last 10 minutes is an opportunity for the students to share their projects with each other—they can talk through their ideas and code with their peers which helps to share their knowledge and also receive vital feedback.

Finally, we end our sessions with mindfulness exercises which include deep breathing to re-set the parasympathetic nervous system after a prolonged period of tech use. This ensures students leave a session with their cups full for what they need to take on next!